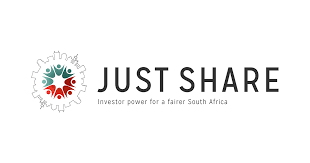 Just Share is a non-profit shareholder activism organisation based in South Africa. Our work includes the use of research, advocacy, engagement and activism to drive climate action and accountability at South Africa's top five banks.
Our work has included filing shareholder-proposed climate risk-related resolutions at FirstRand Limited (2019) and Standard Bank Group Limited (2019 & 2020) and engaging with Nedbank Limited and Investec Limited on their company-tabled climate risk-related resolutions (2020 & 2021 (for Investec)). We are actively calling for better fossil fuel exposure disclosure from SA's banks, for carbon reduction exposure targets to be set that align with the Paris Goals, for fossil fuel financing exclusions, and for vastly-improved climate competence of board members.
We are part of the #STOPEACOP campaign, we focus on working to raise awareness about the financial and other risks posed to investors and financiers of the East Africa Crude Oil Pipeline (EACOP).
Links