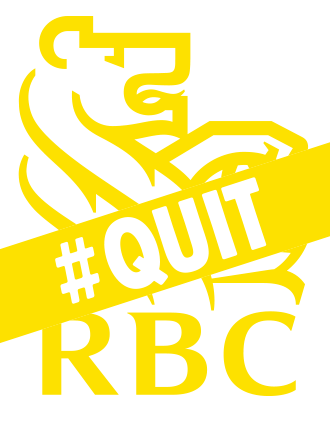 Inspired by the 2019 Banking on Climate Change report, we at Extinction Rebellion Québec launched our Quit RBC campaign in 2020. Since then, we have worked with many other organizations in Montréal, across Canada, and internationally, putting pressure on the Royal Bank of Canada (RBC) to stop financing fossil fuel and to respect Indigenous peoples' rights.
Highlights have included:
The debut of Leo the Lion, a conscientious mammal having second thoughts about his role as a mascot for Canada's worst financier of climate disaster.
A video on the devastation wreaked by RBC's fossil investments, projected onto the wall of RBC's Québec headquarters on the day of the bank's 2021 Annual General Meeting.
Numerous conversations with bank employees, to whom we delivered many copies of a letter from Indigenous women leaders calling for an end to bank financing of the tar sands.
Links